Rift: Server-Firstkill der Instanz "Fall of Lantern Hook" von Thelyn Ennor
Unsere Level 50 Instanzen Gruppe mit den Membern Sareph, Viggor und Nheya hat nun Kaylean und Rhenoa als Verstärkung bekommen und ist somit weiterhin auf Firstkill Jagd. Nach den Server-Firstkills in den Instanzen "Realm of the Fea", "Iron Tomb" und "Foul Cascades", haben sie es geschafft, auch die Instanz "Fall of Lantern Hook" im Experten-Modus zu meistern. Und das erneut als Server-Firstkill auf dem deutschen Server Brutwacht . Das ist damit der vierte Server-Firstkill am heutigen Tage für Thelyn Ennor – was somit ein absoluter Erfolg ist und zeigt wie stark Thelyn Ennor auch im neuen MMO Rift aufgestellt ist. Gratulation an dieser Stelle für diese TOP Leistung!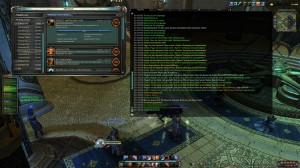 Unsere "Rift" Partnerseite

Keine Kommentare bisher
Hinterlasse deinen Kommentar!
Einen Kommentar hinterlassen